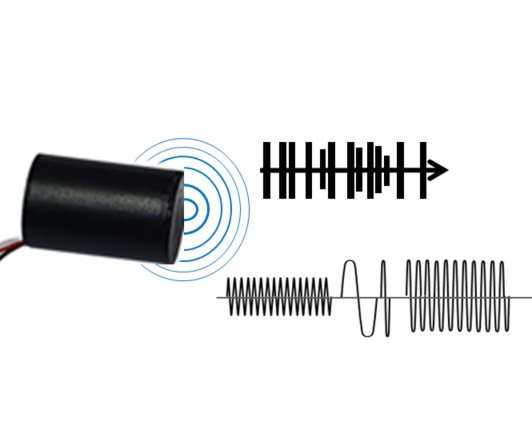 "DHA" means Digital Haptic Actuator, is a new innovative haptic actuator
DHA is not resonant actuator, not linear actuator.
There is no physical spring in DHA.
DHA is electric motor based actuator.
No need special drive IC, it's ok to apply high/low signals.
Currently, vibration motor is a representative product that stimulates the body with vibration to feel
the sense of touch. As we can see from game controllers, smartphones, and vibration alarms on car seats or steering wheels, the existing vibration motors can only generate simple vibration alarm. Because the conventional ERM(eccentric rotating mass) vibration motor, which is widely used, can only generate a certain magnitude at a certain frequency, and cannot be scaled at the same frequency. LRA operating at resonant frequencies also have similar limitations. So, ERM and LRA can generate only simple vibration alarm.
However,Digital Haptic Actuator(DHA) can generate real impact (shock), and can generate more vivid tremor vibration as well. In addition, DHA can be adjusted the frequency, timing, number of the occurrence of impacts including magnitude, and the frequency and magnitude of tremor vibrations can be adjusted independently.
That means the vibration magnitude can be adjusted even at the same frequency.
Using these kinds of features of DHA, we can make rich haptic feelings feedback.
Also, all these functions are controlled by digital signals High/Low.
Also the impact is generated discretely, it can be used as a haptic UI.
Haptic UI can be used as an information providing system for the disabled, and can be used as a system that delivers information in a visually and auditory inattentive state.
Digital haptic actuator's technology has been globally registered patents.
We hope you to find more information in this website, www.acturonix.com
Please refer attached file for more information!